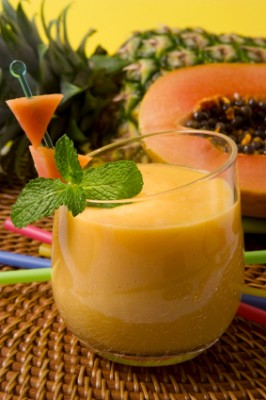 Preparation Time:15 minutes / 16 oz
1 C Almond milk, fresh coconut milk, rice or soy milk, or fresh fruit juice, to desired consistency
½ Banana, fresh or frozen
1 medium Papaya (¾ C)
2 cubes Frozen orange juice
2 Frozen strawberries
Loving Preparation
1. Place all ingredients in a blender and blend
until smooth, adding additional liquid to
reach desired consistency.
Variations
– Experiment with different berries or fruits,
including mango, cherimoya, sapote,
atemoya, soursop or any of your favorites.
– Add small amounts of soaked nuts and
seeds such as almonds, pumpkin seeds,
sunflower seeds or macadamia nuts.
Notes
– Utilize an ice cube tray for easy smoothie
creation by pouring various fruit juices into
cubes and freezing until solid.
– Bananas and other fresh peeled fruit may
also be frozen for later use in smoothies, it is
always good to keep both on hand.
Vegan Fusion promotes the benefits of plant-based cuisine for our health and the preservation of the planet. Vegan Fusion advocates eating food in its whole natural state, using ingredients that are organic and locally grown whenever possible.
In addition to cookbooks, Vegan Fusion offers consulting services for restaurants, natural food stores and other food service settings that wish to include delectable and healthy vegan and raw foods on their menu. Vegan Fusion award-winning dishes embrace a full range of international vegan cuisine – from hearty comfort foods to lighter raw foods. Vegan Fusion believes that eating healthy can be a delicious gourmet experience. Go to http://www.veganfusion.com for more information.