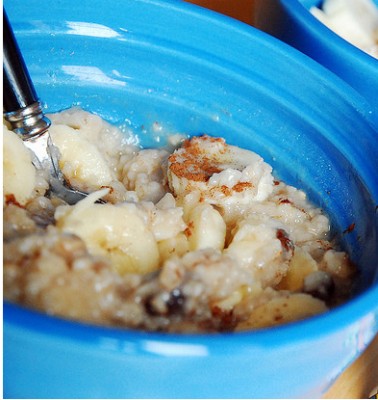 Happy Holidays!  Enjoy a simple and yummy  breakfast that is easy to make.  Try this simple oatmeal recipe.  Choose the variation you like most.
5 minutes prep/10 minutes cook/ 2 servings
3⁄4 cup rolled oats
2 cups filtered water
1 medium banana, sliced (1/2 cup)
1⁄4 tsp cinnamon
1⁄2 cup walnuts, chopped (optional but yummy)
2 Tbl maple syrup, to taste
Loving Preparation
1. Place all ingredients except walnuts and maple syrup into a small pot on medium heat. Cook uncovered until oatmeal is desired consistency, approximately 8 minutes, stirring occasionally.
2. If you have a toaster oven, toast walnuts for a few minutes at 300 degrees. Place walnuts on a dry baking sheet, and leave in oven being mindful not to burn.
3.  Stir in walnuts and maple syrup, and enjoy.
Serving Suggestions
– serve with soy, rice or nut milk. Add agave nectar if desired.
Variations
– replace walnuts with other toasted nuts or seeds.
– try adding various dried fruits such as raisins or dates.
– replace rolled oats with quinoa or millet and cook for longer, approximately 15 minutes.
– try adding 1 tablespoon of almond butter or other nut butter
Vegan Fusion  promotes the benefits of plant-based cuisine for our health and the preservation of the planet.   Vegan Fusion advocates eating food in its whole natural state, using ingredients that are organic and locally grown whenever possible.
In addition to cookbooks, Vegan Fusion offers consulting services for restaurants, natural food stores and other food service settings that wish to include delectable and healthy vegan and raw foods on their menu. Vegan Fusion award-winning dishes embrace a full range of international vegan cuisine – from hearty comfort foods to lighter raw foods. Vegan Fusion believes that eating healthy can be a delicious gourmet experience. Go to http://www.veganfusion.com for more information.