Ingredients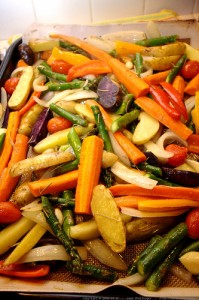 3 Tbl olive oil
1/2 cup water or vegetable stock
6 cups assorted root vegetables, chopped (parsnip, beet, sweet potato, carrot, Jerusalem artichoke, celeriac or other root vegetables)
1/2 cup fennel bulb, chopped
2 Tbl fresh herbs, minced (parsley, dill, &/or basil)
1 tsp sea salt, or to taste 1 tsp black pepper, ground to taste Pinch cayenne pepper
2 Tbl wheat-free tamari or soy sauce, or to taste 1 Tbl balsamic vinegar
Preparation
1. Preheat oven to 375°. Rinse vegetables well and chop into 1/2" cubes. Combine all ingredients, except tamari and balsamic vinegar, in a 9" x 13" casserole dish and mix well.
2. Bake until all vegetables are cooked through, approximately 45 minutes, stirring occasionally.
3. Remove from the oven, cool for 5 minutes, add tamari and balsamic vinegar, mix well.
Serving Suggestions
~ as an appetizer salad or side dish for tofu or tempeh dishes or portobello mushrooms
~ in a tapas menu ~ over grains ~ as an entrée salad over greens with sprouts, and a drizzle of poppyseed, ranch or your favorite sauce or dressing.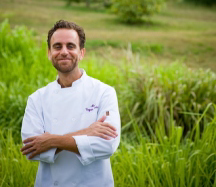 You are invited to join Mark's highly praised on-line cooking class membership program, teaching healthy meal preparation that integrates the many benefits of vegan, vegetarian, raw food, gluten free and plant-based diets. As Mark says, "The Best Health Care Is Self Care" and he should know after teaching hundreds of people just like you and traveling the world sharing this wisdom with all of his students.
Please click here to see free introductory video or to sign up.