¾ cup tomato,chopped small
1 cup papaya,any variety,cubed
4 tsp. lime juice, freshly squeezed
1 tsp. chili powder
1 tsp. ground cumin
¼ tsp. cayenne
¼ tsp. salt or to taste
1Tbl fresh cilantro, minced
Place tomato, papaya, lime juice, chili powder, cumin, cayenne, salt, and cilantro in a medium mixing bowl;stir well.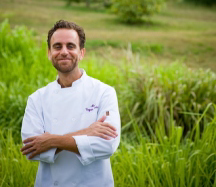 You are invited to join Mark's highly praised on-line cooking class membership program, teaching healthy meal preparation that integrates the many benefits of vegan, vegetarian, raw food, gluten free and plant-based diets. As Mark says, "The Best Health Care Is Self Care" and he should know after teaching hundreds of people just like you and traveling the world sharing this wisdom with all of his students. This specific recipe, Papaya-Tomato Salsa is courtesy of The Complete Idiot's Guide to Eating Raw, a book by Mark Reinfeld.
Please click here to see free introductory video or to sign up.