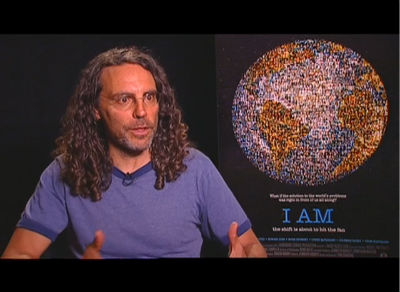 Films have the ability to shape our imagination, inspire new perspectives, and spark powerful dialogue.  Last week I saw the film, I Am, produced by Hollywood blockbuster filmmaker Tom Shadyac. I found it exciting, inspiring, and life changing.  Shadyac's I AM, I believe, has the potential to revolutionize pop culture's definition of success.
In 2007, Shadyac suffered a brush with near death in a traumatic cycling accident.   As a result of his accident, Shadyac spiraled into a well of deep depression leaving him mentally and emotionally debilitated. Shadyac's once focused and determined personality deteriorated into one of hopelessness and purposelessness.
I AM is the powerful tale of what happens when Shadyac eventually emerges from his injury with a new sense of purpose and curiosity.  Instead of returning to his prior life of "success," hallmarked by excess and greed, Shadyac sets out to answer two questions:  "What's wrong with our world, and what can we do to make it better?"
I found Shadyac's approach refreshing, heartening, and humorous. What else would one expect from the writer/director of Ace Ventura, Patch Adams, The Nutty Professor, and Liar Liar?
Two important guiding themes of I AM are:
1. Cooperation, care, and connection trumps competition. Shadyac challenges the widely accepted concept that competition is the norm of nature and, therefore, man's best approach to success.  Shadyac shares that cooperation and consensus thinking is the "norm amongst many species, from insects to deer and primates."  I was so surprised to learn this. Had I been duped throughout my life, thus far, about the concept of competition?
I believe many of us have unconsciously been influenced through popularized media, which shows media clips of wild animals savagely killing their prey juxtaposed next to a message that we live in a world that is based on survival of the fittest.  The message being sent is, if you want to survive you had better outsmart, out do, or kill off your competitor. Guess what are the predominant behavior patterns being captured on the video footage that isn't being shown? Animals are caring for each other, connecting, playing, migrating, and supporting each other.  Cooperation, care, and connection are our true nature.
2.  Follow your heart's wisdom. On his trek of enlightenment, Shadyac visits The Institute of HeartMath (IHM), a nonprofit research organization dedicated to elucidating the heart's intelligence. IHM shares that our hearts actually have a brain. IHM says, "The heart has it's own independent nervous system, referred to as 'the brain of the heart.' There are at least forty-thousand neurons in the heart—as many as are found in various sub-cortical centers of the brain." Studies show our hearts demonstrate they have their own thinking capacity. The heart literally has it's own independent nervous system which communicates with the brain to give it signals with it's own "point of view."
The heart universally values compassion, love, and gratitude, where the brain, depending on one's societal programming, values what it has been taught to value.  For Western cultures, self-importance, fame, and recognition may be at the top of the list. I AM encourages a return to engaging heart wisdom, evoking states of love, care, and compassion as the highest priorities.
If you are somebody, like me, who likes a man who walks his talk, Shadyac could be described as a new icon of success.   Now defining his success from the inside out, Shadyac has given up his 17,000 square foot mansion, rides in private jets, and exotic antiques to live in a mobile home community and live a "simpler and more responsible" lifestyle.
Have you seen I AM? What were your takeaways?  If you haven't seen I AM yet, I highly recommend seeing it.  Below are links to find a theater near you and a trailer of the film.
Find a theater near you click here.