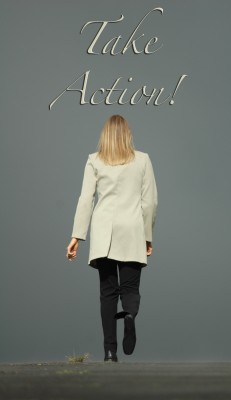 Due to popular demand, today's blog post features a follow up to last week's post, Are You a Worrier or a Warrior? This topic sparked lots of lively conversation by readers who wanted to know how to worry less and warrior more. Today I will discuss several strategies, drawing from real life examples, to help show you how to live, love, work, play, and parent like a warrior rather than a worrier.
Transform your worrier into your warrior through the "Triple A" approach.
The First A is Awareness – Becoming aware of how and what you worry about is key to recognizing where you need to shift your energy.
Do you silently shoulder the weight of the world, internalizing stress until you explode? Or, are you dumping your negative baggage on anyone within earshot about your troubles? Or, perhaps, you are somewhere in between. What do you primarily worry about: finances, relationships, aging, being a great parent?
Raising your level of awareness about what you worry about and the ways you express or suppress your worry is the key, first step to transforming yourself from a worrier to warrior. After all, nobody lives in your head, perceives the world the way you do, or knows what you need more than you do. The gift in owning your worry is that you not only take responsibility for it, but you have the power to change it too.
The Second A is Attitude – Attitude is made up of what you think and feel. Are you naturally drawn to seeing the glass half empty or half full? Do you believe you can influence the outcome of the choices you make in your life? Choosing an attitude with "winning" in mind is just as easy as choosing an attitude with "failing" in mind. The difference between the two is simply a matter of training your mind for solutions, actions, and positive outcomes rather than defeat, unhappiness, and stress. Often times, it appears that society seems to revel in negativity. However, your own attitudes regardless of outside influences are the key to living like a warrior.
My client, Fred is a perfect example of using his attitude to live powerfully. Thus far, Fred has had several major challenges in his life, which could have easily caused him to take on the role of a helpless victim. He sustained a gunshot wound while in the army in the 1960s, has had kidney failure with a subsequent kidney transplant, and went through a divorce. In addition, he has been advised that he may need another kidney transplant within the next few years.
"Don't worry," he said to me. "I have friends lined up who have offered me one of their kidneys."
Fred is also a well-respected businessman, a multi-millionaire, and paid cash for his brand new Mercedes. He has a sign on his home's front deck that says, "It's all good." Fred and I were talking about his approach to life. I asked Fred how he developed such a positive attitude.
Fred responded, "You gotta go with the flow of life. Keep your mind focused on your best outcome and then focus on your best outcome becoming something even better. "
I asked Fred, "For example, say somebody's car breaks down and they are worrying about getting it fixed and what to do about it. How would you handle this problem?"
Fred laughed, "If your car breaks down, ride the bus, hitchhike, borrow a car, rent a car, fix the car, get a bike, or buy a new one – doesn't have to be a new one, unless you want it to be."
Fred approaches all of his life situations like this. He sees numerous ways to solve a situation. He adapts well. Fred teases, "It's planet of the apes out there, better make sure you have bananas in your briefcase. "
Time to choose your attitude. What bananas will you keep in your briefcase? Will you adopt an it's-all-good attitude? Here are a few transformative warrior questions I like to apply to worrisome areas of my life: How can my greatest challenges be my greatest opportunities?, How can I grow from this situation?, What new skills can I learn to improve this area of my life? What are your empowering questions?
The Third A is Action – Action involves implementing steps to address your areas of worry. Action planning is an important process that will help you focus your ideas, decide what steps you need to take, and handle your situations.
I suggest you write down your areas of worry, one-by-one. It helps to write out a list even if you don't know how to resolve the challenge. Just putting the worry down on paper is worthwhile. The solutions come with the right attitude. When looking to handle worrisome areas of life, go to the source of the problem. Handling the source of the problem may involve establishing new boundaries, an automated system, telling the truth, or building a stronger sense of self-esteem.
Consider this story. Sally wasn't able to pay her bills in a timely manner. Every month she worried about paying her rent. Following the Triple A process, she identified money as being a huge worry in her life. She suppressed her worry fears by staying up late watching movies, avoiding her issues. She didn't talk about it much or exhibit outward signs of stress. Every day she showed up at her job feeling internally stressed by having chosen a job that underpaid, underutilized, and overlooked her true strengths and potential. After her awareness heightened, working at her old job was almost unbearable.
Sally tried on an it's-all-good attitude, empowering herself by accepting her situation. She didn't make a big deal out of the situation or make up a story that she was trapped for life in her dead-end job. She made a list of her worries: Not earning an income commensurate with her talents, overspending, and not having a budget. Now, she was ready to get to the source of the problem. The problem was not the job. At the source of Sally's money issues was her self-esteem. Sally didn't believe she deserved to make more money or that her talent was valuable. She questioned herself, "How can I make the best out of my present circumstances? Where do I need to learn and develop my skills?"
Sally proceeded to write out a plan to go back to school to develop her natural talent as a graphic designer. Then, she looked online for books, blogs, and free resources to help her grow her self-esteem. Finally, she wrote out a spending budget following the tips from a free website she found on obtaining financial freedom. Sally now feels good about having taken positive action. Can we learn from the steps Sally's taking?
Are you ready to put the Triple A approach to the test? Make a commitment to identify, act, and transform the worrisome areas of your life. What are your thoughts? Put to test the Triple A approach and write in to tell me what you discover…