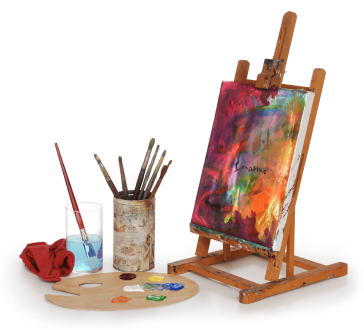 It has been said that medicine is a science, healthcare a business, and healing an art. Like any art, the uniqueness, individuality, and essence of artistic expression are drawn from the artist's one-of-a -kind disposition, perspective, and training. These factors, when combined, shape the artist's approach and work. Your healing process is a unique creation of art.
Holistic healing approaches take into account a broad spectrum of factors and, when taken together, account for your state of health. Rather than just looking at the symptom, holistic medicine looks at the whole person: physical, mental, emotional, and spiritual.
Just as the physiological heart is central to the health of the entire body, the heart of the holistic relies upon a healthy interplay of the four bodies working together: physical, mental, emotional and spiritual. If you were to take a closer look at the operational aspects of the heart, you would see four individual chambers that work separately, and together, for the full function of the heart. If any one chamber becomes dysfunctional, the entire heart will suffer. The same is true for the heart of your health. If any one body of the physical, mental, emotional and/or spiritual is not functioning at its optimum, it will impact your overall health.
The most effective way to participate in your own self-healing, as an art, is to start by acknowledging the presence of each of the individualized "bodies" and the importance of each coming into concert with the others. The same way a painter blends blue and red to create purple you, as a healer, must look beyond the surface symptom, which in this analogy is the color purple, to the primary sources of red and blue which may symbolize mental or emotional states.
Physical ailments expressed in the physical body are to be treated with physical action while simultaneously addressing, with equal attention, healing in the emotional, mental and spiritual bodies. The invisible bodies (emotional, spiritual, and mental) will manifest themselves in the physical body calling attention to "work" that has been left undone. For example, there is a chemistry that accompanies your emotional state. Humility registers a different acidity in the body than anger. Therefore, a life of anger can lead to a toxic internal state, resulting in disease.
Healing is not what your mind thinks it is. Many people consider "healing" the halting, eradication and removal of their unwanted condition, illness or disease. While, that seems like a reasonable mental approach to take it is also the approach that leads to the most resistance, suffering and limitation.
Harvard psychology professor turned seventies spiritual guru, Ram Dass, says in his heartfelt documentary, Fierce Grace, that healing is "…accepting what is and allowing it to move us closer to God." In this documentary Ram Dass, powerfully and vulnerably, shares his own personal process of recovery from a life-debilitating stroke. Previously a renowned lecturer and speaker, Ram Dass lost his ability to walk and his ability to speak coherently, suffering from expressive aphasia (the inability to produce normal speech). He continues to "interpret his stroke as an act of grace" and offers talks where, I can personally attest, his most penetrating communication is felt through his presence, which emanates his life's teachings of unconditional love. His way of communicating has transformed from poignant, superfluous storytelling to staccato words and phrases. Yet, their power remains. If Ram Dass were to focus alone on recovering his ability to speak perfectly he may have remained hidden from his speaking circuit leaving us less rich from the exchange of his presence. His acceptance allows his path of a teacher to reach new heights.
For the purposes of my blog posts, healing is defined as "the ability to accept what is and allow it to move you closer on your path to your divine self." The heart of self-healing lies in your ability to open to the possibility that your condition, illness or injury, are a part of a meaningful and purposeful part of your personal and spiritual growth.
While healing may include the actual recovery from a particular ailment, it is not exclusive to this. Often attempts to eliminate pain, alone, only lead to numbing the exact signal that was needed capture your attention for action.
Learning to be curious and grateful for pain are the alchemical tools of a self-healing artist. While holistic healing is a new approach for many people, holistic practices are centuries old. The art of seeing yourself, holistically, is a worthwhile viewpoint to explore. By expanding your consciousness, opening to new traditions and seeing yourself as a crucial role in your own healing process, you can open the door to a world of new healing possibilities.