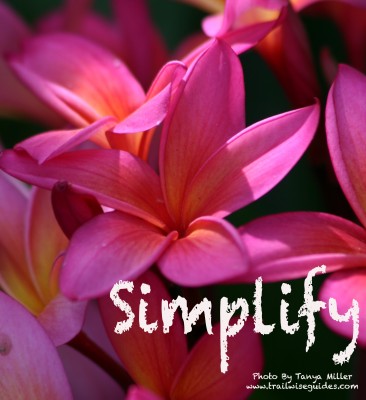 Are you naturally drawn to keeping your life complicated and busy? If you answered yes to the question above you are not alone. A busy life is contagious. Look around. How many people do we see who aren't overly busy? The good news is at any moment, you can change. You can become a renegade to radically simplifying your life.
3 Simple Steps To Make Your Life Easier
1. Make a commitment to simplify. Realize this is a big step. The choice to simplify will require you to do things differently and to make big changes. Are you truly ready for this?
When you make the commitment to simplify your life it will require that you say no, set boundaries, and let go of what complicates your life. It will require that you prioritize, organize, and be okay with disappointing other people.
Simplifying happens one choice at a time. What one choice can you make now to simplify your life?

2. Discover what motivates you to be so busy. What needs might you be trying to get met through your busyness? Approval, recognition, worth, a sense of belonging, a need to survive?
Simplifying involves looking beneath the surface to become aware of why you make the choices you do. Aim to get your needs met in healthy and balanced ways. What do you need to do to honor yourself? Put in place the routines, habits, and boundaries to uphold what honors you.
3. Follow the 80/20 rule. Simplifying means doing less to achieve more. For example, if you have ten clients that pay you $20 to earn $200 could you have one client that pays your $200 and multiply that by ten to earn $2000. Get the idea?
What is one area of your life where you could change your behavior to maximize your time, money, and talent? Take action to do the things that bring you the most joy, reward, and results.
Radically simplifying your life can result in peace, happiness, and joy. Try these three tips to get started.