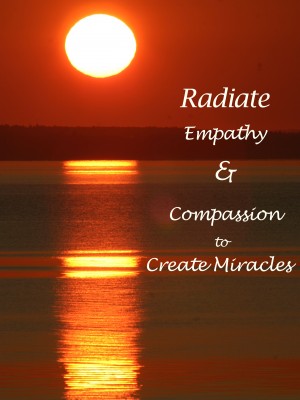 Change is a constant. While change can be scary, especially when it is unexpected, it can also be the birth of greater things to come. The tragic events of last week's earthquake and tsunami in Japan are having worldwide effects. The tragic loss of life, livelihood and infrastructure are almost too overwhelming to confront, yet we must.
Riding the waves of change is a skill. We can do it together. While the waves of the tsunami may not have rolled to your front door, the need for your empathy, ingenuity and efforts are essential. Join me today in spreading compassion, love, and care to help create healing for those in need.

Step One: Empathize. Empathy is the ability to be wholly present with another's experience without the judgment. Empathy creates unity amongst people. Instead of feeling alone or isolated, the power of empathy allows us to feel connected and cared for. French writer Simone Weil once said, "The capacity to give one's attention to a sufferer is a very rare and difficult thing; it is almost a miracle; it is a miracle."
How do we empathize? Acknowledge the feelings of pain, grief and sadness associated with the devastation. Simply be present with the feelings, without trying to change or rationalize them. Allow yourself to merge with the pain. Let the fear dissolves into the pure light of consciousness. By creating an energetic field of empathy, where we each hold a piece of the experience, we can lessen the pain for all those involved.

Step Two: Be compassionate. Compassion is the deep awareness of another's suffering coupled with the desire to alleviate it. I offer this visualization exercise as a way to radiate your love and compassion to the world.
– Bring to mind a person, place, or situation that inspires you to feel loved and loving.
– Focus on the feeling of love in your heart.
– Next, imagine a beautiful ball of golden light as strong as the Earth's sun, pulsing in your heart as a symbol of your love.
– Now, just like the morning sun fills the sky, imagine that ball of light getting stronger, bigger, and brighter.
– This bright light begins to flow from your heart. Feel the deep well of love in your heart radiating out to the world.
– See your love and light spanning the globe.
– Now, focus the light of your love on each and every person, plant and living organism that needs your love and healing.
Feel, breathe, and know your empathy and compassion are powerful healing agents. Learn more about the healing effects your care and compassion have on the world. Visit The Global Coherence Initiative.