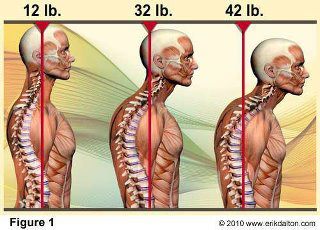 It's true. For every inch that the head moves forward in posture, it increases the weight of the head on the neck by 10 pounds! An average bowling ball weighs 16lbs or less. If you consider how heavy a bowling ball is imagine how heavy your head is to hold when it juts forward.
Poor neck posture leads to head, neck, and shoulder pain. Daily activities such as working on the computer, driving, and sleeping (with bad posture) all promote a forward head posture.
Give your head, neck, and shoulders a break this week. Practice awareness, stretch, and get your head back over your shoulders, not in front of them!